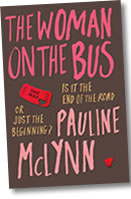 Is it the end of the road or just the beginning?
It's a typical Tuesday evening in Kilbrody. Cathy Long is on her way to collect her drunken father from the pub. Ozzy O'Reilly is in the graveyard, watching the Dublin bus through his binoculars. Charlie Finn is pulling pints, when suddenly it hits him: he's bored. And that's when the woman from the bus walks through his door and drinks herself into oblivion.
Now the whole village wants to know – Who is the woman on the bus?. The question is, will she tell them?
'Pauline McLynn is still fondly remembered for her role as Mrs Doyle in the Channel 4 sitcom Father Ted but her career as an author may yet prove her most memorable move. A stylishly written, hugely enjoyable journey into Maeve Binchy-Marian Keyes country. Laugh out loud funny, The Woman on the Bus also packs a serious heavyweight punch. All this and a tender love story too'
Scotland on Sunday
'A funny yet heart-warming tale about human relationships and frailties – the characters in her books are not only believable but extremely likeable'
Irish World
'A deeply moving story. The Irish community is evoked in wonderfully lyrical passages. She is a gifted storyteller as well as an exceptional comic actress'
Sunday Express