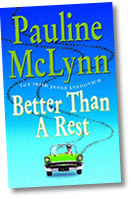 Sometimes a change is better than a rest.
Intrepid private eye Leo Street is on the trail of an adulterous husband when her clapped-out car causes her cover to be blown. It's time to draft in Ciara Gillespie, the teenage tearaway whom she befriended on her last case.
At first, Ciara's methods of surveillance leave a lot to be desired, but soon she's unearthing the secret life of an obstetrician who likes to dabble in genetic engineering.
With Ciara in control, Leo's free to pursue other matters, such as who's making anonymous phone calls to her friend Maeve, and why there's pandemonium at the local crèche. Then she accepts an invitation from Andy Raynor – an old flame she's never fully extinguished – and sparks begin to fly.
'With the perfect balance of humour, adventure and romance, Pauline makes crafting witty, fast-paced fiction look like a doddle'
OK magazine
'Sparky crime caper combining a cracking plot with nice one-liners'
Eve
'It's entertaining and it's also life'
Irish Tatler
'Funny and snappy, will sit well on a shelf next to such writers as Cathy Kelly, Morag Prunty and Marian Keyes'
Sunday Tribune
'Jenny Colgan meets Lauren Henderson – cheeky and chirpy crime'
Mirror